Featured Program!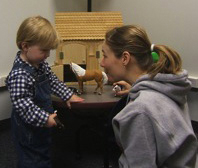 The Develop- mental Training Grant in Integrative Develop- mental Process is focused on understanding mechanisms of change in human development and provides training in cutting-edge multimodal methods in computational analyses, and modeling and in theoretical approaches that integrate multiple levels of analysis in the study of development. The program supports 3 postdoctoral and 5 predoctoral trainees in a broader community of 18 research laboratories. 
Click here to learn more and apply!
Interested in featuring your own program in this space? Click here to learn more.